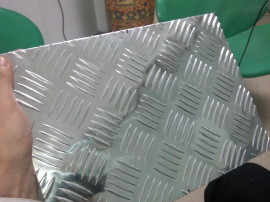 Our 5 bar tread plate 3003 is frequently used for their good combination of strength and formability, weldability, anodising behavior and corrosion resistance.
Product Description
1) Size we supply:
Thickness: 2-5.0mm
Width: 900mm-1524mm
Thicnk tolerance: +/-0.03mm
2) Packing: Waterproof film,kraft paper,steel strip,wooden pallet ( Customer may require interleaf papers into sheets or require blue protective PE film on sheet&coil surface. )
3) surface requirement: No scratches, white corrosion, water stain, black stain marks, oil stain or streak marks.
4) Ending Application:
Construction, decoration, electronic products, wall Cladding, Truck body, Signboard, Insulation, Ceiling, aerospace, aviation, household appliance, lighting, and some other areas, etc.
Chemical composition of aluminium tread plate 3003:
| | | | | | | | | | | |
| --- | --- | --- | --- | --- | --- | --- | --- | --- | --- | --- |
| | Si | Fe | Cu | Mn | Mg | Cr | Zn | Ti | Others | Al |
| 3003 | 0.6 | 0.7 | 0.05~0.20 | 1.0~1.5 | / | / | 0.1 | / | 0.05 | remain |
Related posts