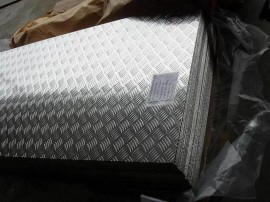 Tread plate is also known as checker or diamond plate. The added texture reduces the risk of slipping, making diamond plate a solution for stairs, catwalks, walkways, and ramps in industrial settings. Additional applications include truck beds and trailer floors. Its non-skid properties mean that diamond plate is frequently used on the interior of ambulances and on the footplates of firetrucks.
Our 5052 tread plate is mainly used as anti-slip floor in construction, vehicle, ship, etc. Diamond plate can also be used decoratively, particularly highly polished aluminum variants.
Other Choice of Alloy: 1060 5052 5754 6061 6063 6082
Our Features:
1. Continuous Quenching Lines
We have two quenching lines, which achieve quenching online. Thus we can improve production speed and guarantee stability. The quenching online not only short the production cycle but also assure quality.
2. International Advanced Grinder
Herkues grinder equipment is imported from Italy and improve the surface quality of products. It not only guarantees beautiful product luster, but also produces no defeat that can be seen.
3. Beautiful and Durable
Tread plate has beautiful appearance and durability. It is featured with lightweight and anti-slip. Aluminum plate has good ductility, so there is no deformation.
Related posts