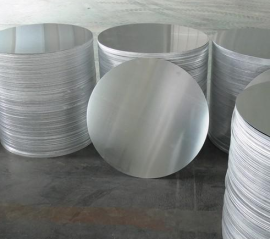 Aluminium circle 1200 O compared to other alloy series, it featured with very high thermal, superior corrosion resistance, highly reflective and decorative, very low strength.
Product description:
◆ Size: Thickness:0.1mm-150mm
   Width:10mm-1000mm
◆ Surface: Oxidation, embossed,mill, bright,polished, hair line,brush.
◆ Package: SeaWorthy Wooden package/case
◆ Application:
   1.Lighting.
   2.Solar reflector plate
   3.Architectural appearance
   4.Interior decoration,ceiling,metope,furniture,cabinets,etc
   5.Household appliances,refrigerator,microwave oven,audio equipment,etc.
Chemical Compositions:
| | | | | | | | | | | |
| --- | --- | --- | --- | --- | --- | --- | --- | --- | --- | --- |
| Alloy | Min.AL | Si | Fe | Cu | Mn | Mg | Cr | Ni | Zn | Ca |
| 1050 | 99.5 | 0.25 | 0.4 | 0.05 | 0.05 | 0.05 | — | — | 0.05 | — |
Mechanical properties:
Alloy (AA)
Temper
%E (min)
(at 50 mm gauge length)
UTS (mpa)
Bend test: radius of bend
(T=material thickness)
Min
Max
1050
O
29
55
95
close
Related posts