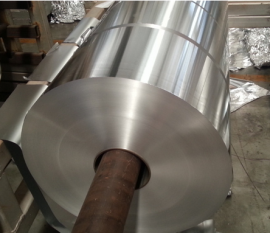 1) Chemical Composition (%) 
Si: ≤0.60 Fe: ≤0.70 Cu: 0.05-0.20 Mn: 1.0-1.5 Mg: — Cr: — Zn≤0.10 Ti: —
Other Single≤0.05 Total≤0.15 Al: Remainder
Special Requirement: Pb≤0.01 Cd≤0.01 As≤0.01 if used for food or pharmaceutical.
2) Mechanism Properties
  Alloy 3003 Temper H24
  Tensile Strength: Rm/MPa 140-170
Yield Strength: Rp0.2/MPa  ——
Elongation A/%  >1
ERICHSEN: 5.7mm minimum for deep drawing properties
Oil usage: 180mg/square meter, food safety oil grade required.
3) Tolerance
  Thickness: 0.012mm ±8%(partial)   ±6%(average)
   Thickness: 0.045mm 0.060mm 0.090mm ±6%(partial)   ±5%(average)
Width: ±1.0mm
Inner Diameter: +1.0/-0.5mm
4) Pin Hole Percentage
   In 1000mm*1000mm
Thickness: 0.045-0.090mm    0-10
   Thickness: 0.045-0.090mm    0-1

5) Appearance: Flatness, clean; erosion, hole, layer, dark, crack not allowed.

6) Inner Diameter: 75mm/150mm/200mm/300mm/405mm available

7) Package Requirement
Hang in air/eye to sky/eye to wall, seaworthy,    wooden tray, paper and PVC protection, steel fix.
Related posts