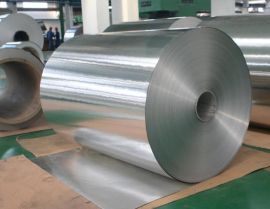 Aluminium foil 8011 O is based on Al–Fe–Si, which is used in nuclear power generation for applications demanding resistance to aqueous corrosion at elevated temperatures and pressures.
1) Chemical Composition (%)
Alloy 8011 O
Si: 0.50-0.90; Fe: 0.6-1.0; Cu: ≤0.10; Mn: ≤0.10; Mg: ≤0.05; Cr: –; Zn: ≤0.10; Ti: —
Other: Single≤0.05; Total≤0.15; Al: Remainder
Special requirement: Pb≤0.01   Cd≤0.01   As≤0.01
2) Mechanism Properties
Alloy 8011 Temper O Anneal
Tensile Strength: Rm/MPa 50-105
Yield Strength: Rp0.2/MPa  ——
Elongation A/%  >10
3) Tolerance
Thickness:±3% (average)  ±5% (partial)
Width: ±1.0mm
Inner Diameter: +1.0/-0.5mm
4) Pin Hole Percentage
In 1000mm*1000mm
Thickness: 0.01-0.02mm      0-10
0.02mm above: 0
5) Appearance
Flatness, clean; erosion, hole, layer, dark, crack is not allowed.
6) Inner Diameter: 75mm
7) Package requirement
Hang in air/eye to sky/eye to wall, seaworthy, wooden tray, paper and PVC protection, steel fix.
Application: Cooking delicate fish and vegetable, Lidding storage pots (not in with steel cans), Making small storage containers the refrigerator, Wrapping for the freezer, Sealing saucepans to retain steam
Related posts