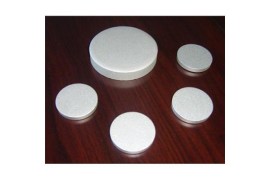 Our aluminium slug 1070 H16~20 can be customized in shape and size according to requirenents of clients. It has excellent anti-corrosion, attractive appearance, and good flexibility and tractility. It is widely widely used for the manufacturing of aluminum containers or Collapsible Aluminium tubes for cosmetics, pharmaceutical, beverage containers, and many other packaging solutions. Quality is well approved by SGS and REACH.
Standard: excellent quality In accordance with European Standard EN570/573;
 Al 1070 Slug Specifications
Product Name

Alloy

Purity

Hardness

Specifications(mm)

Thickness

Diameter

Tolerance

Aluminum Slug

1070

99.70%

16-19 HB

2-25

6-140

±0.05
Annealing temper is: 450 to 480 centigrade, time is: 8 to 12 hours
Chemical Composition of our Alloy 1070 (%)
| | | | | | | | | | | | | | |
| --- | --- | --- | --- | --- | --- | --- | --- | --- | --- | --- | --- | --- | --- |
| Alloy | Si | Fe | Cu | Mn | Mg | Cr | Ni | Zn | Ca | V | Ti | Other | Min Al |
| 1070 | 0.25 | 0.25 | 0.04 | 0.03 | 0.03 | – | – | 0.04 | – | 0.05 | 0.03 | 0.03 | 99.7 |
Diameters     
We can supply aluminium slugs of 99.7% Al purity from our aluminium rolling mill. The diameter capacity of our aluminium slugs is from diameter 6 mm to 140 mm. The following are the different most regular diameters that we supply:
20mm, 25 mm, 27mm, 40mm, 45 mm, 50 mm, 54 mm, 63.5 mm, 74 mm, 75 mm, 85 mm, 89 mm, 90 mm and, 116 mm. Aluminium slug diameter can be produced according to customer's requirements.
Our Aluminium Slug Shape Details
Shape: Round, Oval, Column, Rectangle
Surface: With or without hole, Flat, Concave(Domed), Conical.
Slug Finish: Tumble or Shot-Blasted.
Regular Packing of our Aluminium Slug
Corrugated cardboard boxes (25 kg. each), on wooden pallets (45Cartons/Pallet).
Our Main Machinery
Smelting furnace, rod drawing machine, saw cutting line, tension-extrusion machine, hot rolling mills, cold rolling mills, stamping and finishing lines, annealing line, selection and packaging line.,etc. Every process in strict accordance with the work instruction.
Our company is capable to design and develop the mould tooling so as to shorten the new product development cycle and to control accuracy of profile dimensions in view of making our utmost efforts to meet customer demand.
Major Process of our Aluminium Slug
Smelting
Smelting is one of the basic process during which the raw aluminum ingot is transformed from solid to liquid at 710 degrees Celsius high temperature in the Smelting furnace. The impurity substance and exhaust gas within the molten aluminum can be discharged through degassing , deslagging and refining in order to meet process requirement.
Fitter Casting
Casting is to pour the molten aluminum liquid into the casting mould and transformed into aluminum rod in different size after cold solidification with deep casting system.
Saw Cutting
Cutting requires most of the work force. It is designated to cut the aluminum rod into fixed size in preparing the materials for next tension extrusion.
Extrusion& Hot Rolling
Extrusion & Hot Rolling means the cut aluminum rod is, under the high pressure in the heated tunnel furnace, extruded into proximate matters. Our company is equipped with 2 units of 1200 Ton level Hot rolling lines, the heat of the proximate matter is dissipated in nature.
Cold Rolling
Cold Rolling, also named finish rolling, use hot-rolled coil as basic material to transform them at normal temperature. The thickness and the width of cold-rolled coil is decided by equipment capacity and customer demand. It's a very important process which determine the high accurate of size and low deviation of thickness. The maximum tolerance should be more or less than 0.05mm.
Stamping
The high pressure of punching machine together with the stamping mould charge on the surface of metal plate, coil or profile, it leads to the transformation or separation of materials and form the aluminum components with shape and size determined, this process is called Stamping. Our company is also equipped with automatic load & unload system on the stamping line in order to minimize the processing time and increase the revolving rate.
Annealing
The objective of annealing is to reduce the hardness and to increase the tractility of aluminum slugs stamped. Our company can control the hardness of aluminum within 16-20HB after annealing.
Inspection
Inspect the purity ,hardness and dimension of aluminum slugs to control the quality of finished products.
Related posts