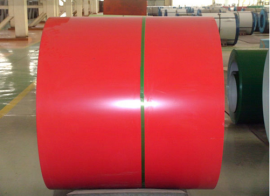 Precoated aluminium coil 3105, the strengthening effect of added Mn is supplemented by additions of magnesium which offers further solid solution strengthening.
Specifications:
◆ Aluminum thickness: 0.8-4.0mm
◆ Max coil width: 1600mm(standard 1240mm)
◆ Coil's standard diameter: 1200mm, Interior diameter: 505mm, 508mm, etc.
◆ Coating: PE or PVDF coating
◆ Surface treatment: Anti-scratch, high glossy, matt
◆ Color: Champagne, red, green, blue, golden, etc.
◆ Coating thickness: Double coating-25 micron, single coating-18 micron, primer-5 micron
Chemical Compositions:
Grade
Si
Fe
Cu
Mn
Mg
Cr
Ni
Zn
Al
3105
0.600
0.700
0.300
0.30-0.8
0.20-0.8
0.200
–
0.400
remains
Usage: Construction (aluminum composite panel, corrugated plate roof, aluminum ceilings, shutters, shutter doors, electronics (computer case, computer panel), lighting, furniture etc.
Related posts