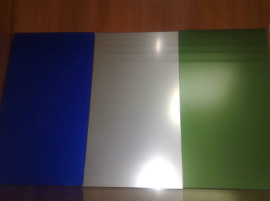 PVDF coating sheet 3003 featured with protective film, coating-basic level(PVDF or polyester),ground coating, aluminum Alloy sheet, macromolecule adhesive.
Product description:
◆ Thickness: 1mm, 2.5mm, 3mm, 4mm, 5mm, 6mm (3mm and 4mm are most popular).
◆ Length: 2, 440mm (Max. Length: Unlimited)
◆ Width: 1, 220mm (Max. Width: 6000mm)
◆ Weight: 5.5-6kg/sqm baesd on 4mm thickness
◆ Thickness of aluminum foil: 0.15mm, 0.18mm, 0.21mm, 0.30mm, 0.35mm, 0.40mm, 0.5mm
◆ Colors: Silver, flash silver, gold, flash gold, white, red, black, marble design etc. (as requirements).
◆ Package: in Standard Sea Worthy Wooden Pallet
Chemical Compositions:
Alloy
Si
Fe
Cu
Mn
Mg
Cr
Ni
Zn
Ti
Other
Al
Single
Total
3003
0.6
0.7
0.05~0.20
1.0~1.5
_
_
_
0.1
_
0.05
0.15
Remainder
Typical application: Roofing, mobile house, Exterior Wall and Construction.
Related posts