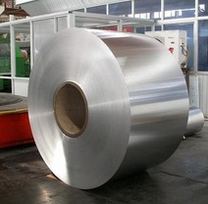 Technical Standard
YS/T 421-2007; ASTM B209M; EN485; EN573; GB/T3198-2003
Chemical Composition (%)
AA1050
Si≤0.25, Fe≤0.40, Cu≤0.05%, Mn≤0.05; Mg≤0.05, Zn≤0.05; Ti≤0.03
Single impurity≤0.03, Al≥99.50
Mechanism Properties
Temper H18
Tensile Strength≥150Mpa
Elongation50mm% ≥ 1%
Size Tolerance
Thickness 0.13~0.20mm ±0.005mm
>0.20~0.30mm ±0.005mm
>0.30~0.50mm ±0.015mm
Width Tolerance: ±0.5mm for all width
Diagonal: ±1.0mm if cut into sheets
Flatness: any edge buckle is not allowed,
Wave≤3 and single maximum≤1.5mm total≤2.0mm in center area
≤2 and single maximum≤1.0mm total≤1.5mm in edge area Curve: ≤0.3mm in any 4000mm
Surface
Roughness Ra 0.18 μm~0.28μm ±0.02μm in one coil
Turriform≤5mm, layer≤2mm except inner 5 circles and outer 2 circles
Not allowed defect: Crack, bubble, erosion, fold and pinhole
Defect≤0.5% in each coil: spot no more than 3 after electrolyzation experiment, but strip is not allowed.
Quality Control
Aluminium lithographic quality requires strict standard and it is very sensitive for quality control. So, in our QC quality processing control and QA inspection control, we abide the following regulation:
1). spectral analysis to test chemical composition.
2). Stretch test to identify mechanism properties.
3). Tolerance measurement, including thickness, width, diagonal, flatness and curve, at least 2000mm in each patch.
4). 300*300mm size for simulation heating test
5). Anodizing test.
6). Simulating electroanalysis test
7). Surface roughness and defect inspection, pickle or alkali is required if necessary.
Related posts