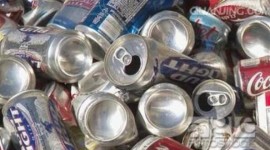 According to foreign media process international's latest news, the Brazilian aluminum association (Brazilian aluminium association, ABAL) and Brazil high recovery tank manufacturers association (ABRALATAS) recently jointly issued, according to data from Brazil aluminium cans recovery rate is as high as 98.4% last year, the world record to keep the country went on the position of the global recovery leader since 2001.
Brazil market in 2014 aluminum cans for a total of 294200 tons 289500 tons of recycled, recovery rate up 12.5% from a year earlier, according to the news of the Brazilian aluminum association, the collection after recycling of aluminium cans, to produce 845 million reais benefit, energy saving 4250 GWh, the equivalent of 200 household consumption in a population of 6.6 million years.
Brazilian aluminum association recycling market committee coordinator Mario Fernandez (Mario Fernandez), said that more than a dozen years, Brazil has become a global aluminum can recycle most populous country, the recovery rate of more than 90%, this shows that the Brazilian recycling market is becoming mature and perfect.
2014 aluminum cans, by contrast, high recovery rate of countries and regions are: Japan's 87.4%, about 70% of Europe, the united Arab emirates 66.5%.
Related posts