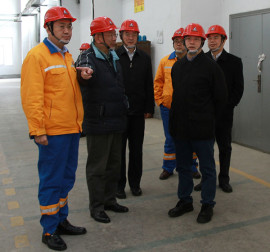 Recently, the southwest aluminum forging factory sewage treatment facilities all the indexes passed acceptance of water quality monitoring, chongqing municipality jiulongpo district environmental protection bureau southwest aluminum first sewage treatment system put into operation.
It is understood that the plant environmental monitoring total row of online monitoring system due to the effect of sewage straight row, monitoring data is not stable, chemical oxygen demand (cod), ammonia nitrogen and other indicators have been severely affected. Capacity requirements for supporting facilities and sewage treatment, according to chinalco implementation plan "one hundred green action" activities, and in August last year, the installation of the sewage treatment facilities as one of southwest aluminum ring measures started to build. In southwest aluminum safety and environmental protection, equipment engineering department, under the unified planning of forging factory equipment, security, production safety, power JiKong stand fully, and make the installation of the facilities and orderly, and the sign part, pipeline facilities shall be closely regulated, targeted to take measures to prompt pollutants reach the national discharge standard.
Life sewage is chinalco "one hundred green action" an important part of environment comprehensive improvement project. Forging factory production safety relevant controller introduces, the facility's operation will greatly improve the plant wastewater discharge status quo, improve the discharge water quality, further reduce wastewater emissions, improve water pollutant reduction rate, promote the enterprise environment management, enhance the level of environmental protection of the company as a whole and promote the development of green.
Related posts