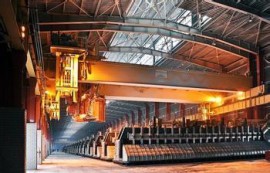 So far, in the non-ferrous metal industry has formed a production capacity of 5.64 million tons, compared with 2012 increased by 2012 tons, an increase of 34.6%. The electrolytic aluminium production capacity of 3.4 million tons, 1.05 million tons of new, up by 44.7%; Lead, 400000 tons of new 160000 tons, up 66.7%; Zinc, 650000 tons of new 140000 tons, an increase of 27.4%.
To adapt to the new normal, industrial upgrading is a way out
Project construction site in tens of millions of square meters, factory building architecture, locomotive, scene spectacular. Highland as three cluster industry, aluminum industry new materials, modern coal chemical industry cluster, is gradually incline to high-end, coal and aluminum industry chain is constantly lengthen… This is a reporter recently in huolinhe comprehensive resource recycling economy park to see the hot production scenarios.
To invest billions of and lian sheng jin lian aluminum deep processing project of aluminum industry new materials production, revolve around the core, of deep processing of aluminum products terminal. In Inner Mongolia lian sheng light alloy co., LTD., the world's advanced hartz column squaring off, continuous casting and rolling production line construction, is expected to begin in June, the consumption of aluminum foil, pharmaceutical aluminum foil will move towards the world.
In a state of Inner Mongolia huo coal wheel manufacturing co., LTD., the rows of bright automobile aluminum wheel hub "flow" in the workshop; Special passageway in hollingsworth Guo Le region of electrolyzed water, electrolyzed water from a dedicated channel to aluminum deep processing enterprise, the enterprise directly cast aluminium, aluminium processing aluminum components, reducing the casting molten link, can save costs 400 yuan per ton… The author will coal aluminum industry chain extending continuously.
Liu Jingyu deputy director of the industrial park management committee said: "on the spot or in the vicinity of electrolyzed into market need aluminium products with high added value, the formation of the aluminium industry extension industry chain." At huolinhe region has attracted more than 20 aluminum deep processing enterprises, and high correlation and mutual cooperation between enterprises more closely, products cover aluminum, pure aluminum two big series, more than 10 categories, formed a "water – fine aluminium – electronic foil – a foil" "- aluminium wheel aluminum water" – large flat ingot aluminum water "- aluminum aluminum water" – aluminum aluminum water "- aluminium ingot aluminum water, and many other chains.
According to the autonomous region by letter appoint commissioner of industrial raw materials, Ren Yuxiang said, our district has formed a coal – electricity – fly ash after the extraction of alumina, electrolytic aluminum, aluminum processing industry chain, aluminum deep processing has formed "aluminum ingots – fine, electronic aluminum foil, aluminum foil," "aluminum ingots, flat aluminium ingot, aluminum foil" "aluminum ingots, aluminum wheel" "aluminum ingots, aluminum" "senior aluminum ingots, aluminum alloy" five industry chain, after the aluminum processing industry overall level is in the domestic industry.
As well as the whole autonomous region economy, non-ferrous metals industry is more advanced, division of labor is more complex, to form the new normal evolution of the structure is more reasonable.
To adapt to the new normal, new as is the guarantee
Not only brings new challenges, the new normal more gave birth to a new hope, to witness the new change, new heights.
"In the past, our economic growth largely at the expense of the environment at the cost of high input, high emissions, high pollution of extensive growth. The new normal, the environmental protection of hard constraints." Quiet Ze professor suggested that hit the nail on the head. "It can be said that the new normal, the environmental situation is not only a measure of non-ferrous metals enterprise core competitiveness of an important yardstick, and likely will become decided to enterprise the main basis of life and death."
"In the future for a period of time, follow the '8337' development, the implementation of the non-ferrous metals industry development policies and measures to speed up the construction pace of non-ferrous metal production and processing base, by the end of 2017, strive to achieve planning five smelting non-ferrous metal products production capacity of 14 million tons, among them: new electrolytic aluminium undertaking industrial transfer capacity of 7 million tons, electrolytic aluminium production capacity of 10 million tons." Autonomous region deployed a new task in the new challenges.
Along the direction of the guide, decision makers "ice-breaking" take action – to improve industry threshold, a high starting point high level development of nonferrous metals industry! Mining enterprises must adopt new larger flotation equipment of high efficiency, energy saving, metal recovery rate increased to 95% above. New aluminium with 400 ka pre-baked anode cell and above, energy consumption reached domestic advanced level. New reconstruction of copper smelting, rich oxygen bottom blowing furnace, furnace and other advanced equipment, to achieve the effect of energy saving, high efficiency and emission reduction.
This year, the electrolytic aluminium production capacity will continue to pay special attention to the high price region transfer of our work. With the help of the ministry of industry and guidance, actively coordinate with electrolytic aluminium production capacity replacement work of henan province. Tongliao city currently electrolytic aluminium enterprises and three in henan province, shandong province 1 companies reached a preliminary intent. At the same time, pay special attention to the consolidated and integrated micro power grid construction, make our price advantages can be fully reflected, form the competitive advantage of industry chain. Continue to implement the nonferrous metal mineral resources allocation policy to smelting processing backbone enterprises, support for copper, lead, zinc and other non-ferrous metal smelting processing backbone enterprise priority to obtain mining right agreement, give priority to integrate with other mining right and the surrounding resources, priority ready exploration, preferential access to large and medium-sized mines mining right, preference for no deep processing project of minerals of mine production, promote the development of ground mining mineral smelting and processing integration mode.
Related posts