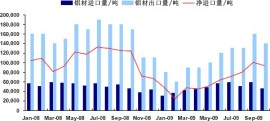 Yesterday, the Shanghai aluminum main 1601 contract tumbled 235 yuan/ton, or 2.23%, days after it has tested to 10275 yuan/ton, hit a record low on December 17, 2008. Outside dish price movements also is not optimistic, in the context of prices continued downward, LME bull position was also significantly reduced.
For aluminum prices continued to fall, TongGuan jinyuan metal futures division chief Zhu Pengbo told futures daily reporter, aluminum itself is one of the varieties of excess supply, the price has plummeted from upstream in alumina prices and thermal coal prices downward, raw material prices make aluminum production enterprise cost reduction, weigh on prices.
Flagging prices and the recent domestic aluminum production enterprise has spread the news of production. On October 24, fushun aluminium company chinalco's electrolytic aluminum production line across the board, will no longer production of aluminium and its alloy, turning it into aluminum with carbon products.
Chinalco's explanation for this is that, "is this company based on the current market situation and the development of fushun aluminium actual, according to the objectives of the turnround to erase, flexible production, important measures to promote the development of transformation."
Fushun aluminum aluminum production line across the board production and chinalco group for the third time since the recent news from the mass production. In early September, and lanzhou branch of China liancheng branch had shut down part of electrolyser production measures; In mid-october, chinalco liancheng branch again announced that all cell officially retired from the operation.
, Zhu Pengbo said that although the industry has reduced, but at the same time also have increment, the price of all production boost is very limited. There are about 2 million tons of production so far this year the entire domestic industry, but the new production was 3 million tons.
Researcher with the institute metal group founder medium-term Feng Haiying, according to the analysis of domestic aluminium output this year is still a fast growth, but a poor aluminum end demand, promoting aluminium related products exports soared, exacerbated by the global aluminum market oversupply concerns. Electricity and steam coal prices fall, also promote aluminum production cost reduced.
Related posts