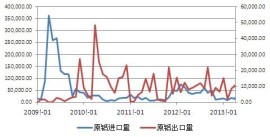 Wall Street stories reported on February 13: China's aluminium exports surged, shook the global aluminum market, because of China's tax loopholes to strengthen the competitiveness of China's aluminium.
In 2014, caused by a surge of supply, the previous prices fell by 8% to $2081 a tonne, while London metal exchange (LME) prices rose by 4%.
Arguably, exports of aluminium in China don't seem to attract people, because the government a 15% export tax on it. The policy aims to bring more aluminum at home.
But in practice, the Chinese aluminum producers through will pretend to re-export "semi-finished products", the Wall Street journal quoted analysts said. Just out of aluminum smelting is into pieces, but can change its shape, is relatively easy to change as "door" or "hubcap" "semi-finished product". After such as export, and then the "intermediate" back to melting aluminum, transportation to the true want to export.
As a result, China's aluminium producers can get from "intermediate" 13% VAT return. Combined with the buyers for the LME aluminium pays a premium, China's exports of aluminium more competitive compared to other countries.
Aluminum analyst at consultancy Wood Mackenzie Uday Patel told the Wall Street journal:
Aluminum "intermediate" export a significant growth. Some of them just cover aluminum exports.
In December last year, China's aluminium exports reached 488000 tons, although is very difficult to estimate how many of them are "intermediate goods", but according to citi analysis, the data in January jumped 136% year on year.
In addition to tax loopholes, China's main industrial provinces for aluminium producers to provide electricity subsidies also encourages them to produce more aluminum. Aluminium requires a lot of electricity.
In 2014, the Chinese aluminum production rose 14% to 28.3 million tons, partly because of the rise in prices earlier last year.
However, the main housing market slowdown, China's domestic demand is not synchronized with aluminum. On the contrary, the weak domestic demand led to more aluminum for export.
Related posts