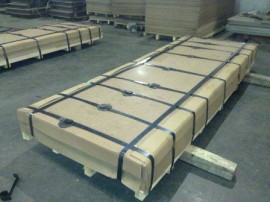 According to the China nonferrous metals industry association statistics, in 2012 China's electrolytic aluminium production capacity of 26 million tons, the actual output of 20.27 million tons, capacity utilization rate is about 78%, which is the highest electrolytic aluminium production capacity utilization since 2008 years. Figures show that over the past five years, electrolytic aluminium production capacity utilization does not exceed 75%. Miit raw materials department released the non-ferrous metal industry in the first half of 2013, according to the operation of the current domestic most of the smelting industry overcapacity, especially in the electrolytic aluminium overcapacity problem. Currently about 10 million tons of electrolytic aluminium production capacity under construction, loss of 670 million yuan 1 ~ 6 month electrolytic aluminium industry.
So low aluminum situation, the government of natural causes a series of control actions, from aluminum industry specification file to a new round of backward production capacity, has failed to change this kind of industry in the short term, but instead negative continuous fermentation. As electrolytic aluminum investment large volume, low investment threshold, also easy to form industrial cluster, therefore regardless of resources and energy conditions in some places, all the electrolytic aluminium as pillar industry development, and to give companies more preferential support policy, such as electricity, protect a lot of backward production capacity. The industry is expected that by 2015 the national new and old total production capacity will reach 40 million tons, far more than the 12th five-year plan target of 24 million tons of production. In 2012 the national market consumption of 19.02 million tons, even if the original aluminum consumption grew by 9% a year, overcapacity is extremely serious.
In contrast, the downstream aluminum industry chain, aluminum processing enterprises number is more, but the production of low concentration, small scale, low level repeated construction, in addition to a few big companies such as chinalco, has not formed a high level of modernization of large aluminum group. Figures show that China's aluminium processing enterprises at present, there are about 1400, including more than 780 aluminum extrusion factory, aluminum sheet with foil factory, more than 650. Large and medium-sized enterprises is less than 20%, behind the small enterprises accounted for more than 80%, the average capacity aluminum processing enterprises only 2.5 tons/year, aluminum processing enterprises and industrial developed countries average capacity above 100000 tons/year, the largest production capacity of 1.7 million tons/year.
The prohibition on one side is, against the wind to expand the electrolytic aluminium production capacity, one side is weak, the industrial low downstream aluminum processing, under the dual dilemma, the legacy of aluminum to brewing a new change.
Shandong as the second largest electrolytic aluminum production base, the letter sent, weiqiao, nanshan and a series of aluminium giant, and careful analysis shows, the aluminum industry chain is still concentrated in the hierarchical alumina, electrolytic aluminum, these projects in energy intensive and highly polluting production characteristics has saddled with heavy pressure, energy saving and emission reduction in our province the difficulty of the aluminum industry transformation breakthrough in downstream applications, which is the biggest bottleneck to the aluminum industry in our province.
From electrolytic aluminum production costs, electricity costs accounted for as high as 45%, is the lifeblood of the electrolytic aluminium industry. And aluminum industrial development of the international experience shows that if the electricity of electrolytic aluminium production by more than 30% aluminum manufacturing costs, will be the critical point of electrolytic aluminium production value. Foreign power cost in aluminium, accounts for about 25% ~ 30% of the total cost. Can promote along with the development of national electricity price reform, electricity price discount is already expect of energy-intensive industries to absorb so much aluminum production capacity, only by shutting down or subsidies are not a long-term solution, through the downstream aluminum exports, rely on technological innovation to achieve transformation and upgrading of the industry as a whole to become inevitable option. From the application to large industrial aluminum profiles, industrial profiles and building profile is using proportion 7:3, on the contrary, domestic future like domestic large aircraft, aerospace industry, the demand for aluminum, have very big imagination space. Aluminum consumption expansion and structure adjustment has become the aluminum industry chain downstream processing field of the high profits.
War in this transformation, from yantai conglin group after 10 years of hibernation, from the simplest quietly with high-grade aluminum alloy doors and Windows processing, high value-added aluminum deep processing field, the aluminum from extended to the industrial and civil field, in the construction field from the overpass, machinery accessories to high-speed rail, yacht, aviation military industry, through the extension of industry chain is not only the aluminum material value doubled, improve product added value, and give full play to the advantages of light weight, corrosion resistant aluminum materials, aluminum in resolving excess production capacity, at the same time to ensure the maximum effect of green energy conservation and environmental protection.
Related posts