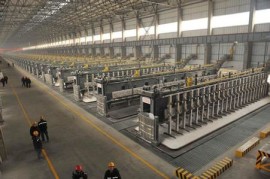 We know that the development of an industry has certain rules to follow. This is because new technology invention or original collapse and the formation of the emerging industry, generally go through creating, building scale, industry concentration, and form new monopoly or die in this process. Easy to see the lines is very clear, but actual condition is much more complex. The electrolytic aluminum industry in China is a bright example.
The development of electrolytic aluminum industry in China started in the government deregulation and allow private capital to enter, the rights of state-owned enterprises, and broke the traditional shareholding system transformation of administrative monopoly industries. Early big profits stimulate the increase of the investment and the entry of competitors, industry concentration reduced quickly, then is the rapid rising and carve up the market competitors. At this stage of enterprises to fully enjoy the industry rich fruits brought by the rapid development, but also advance the subsequent crisis.
Market participants in order to expand market share, pay more attention to the business revenue, not profit, and efforts to expand the production capacity, and constantly have new players, this directly led to the upfront costs of alumina, and electrolytic aluminum production capacity and a large number of surplus, the condition of industry-wide losses. In this process, some companies because of monopoly of mineral resources, economies of scale, and even the policy advantages, so in a strong position in the competition, the whole aluminum industry profit point gradually close to these enterprises and concentration.
Some of the leading enterprises to seize the moment big counter-cyclical mergers and acquisitions, the development of the electrolytic aluminium industry gradually show signs of health transformation. At the same time, however, electrolytic aluminium upstream of the alumina industry are repeating the same story, with the rapid release of the new expansion of production capacity, in the second quarter of 2006 began to appear alumina prices fell sharply, the lower the cost of raw materials up to the electrolytic aluminium enterprise profit space. Makes the loss of the boom of the short-term boost industry originally, electrolytic aluminium industry investment and the resurgence of may, so the future development direction and uncertain.
Related posts