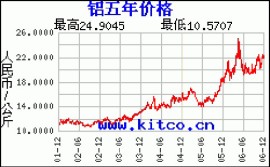 China is rich in resources of aluminum and copper, copper is second only to oil in our country's second largest strategic materials, import dependency is as high as 60%. , as the most important raw material of wire and cable, copper prices rose too fast in recent years, let the wire and cable industry, on the other hand is aluminum resources are very abundant in our country, there are about 2.7 billion tons, while "by aluminum and copper" in Europe and the United States and other developed areas, has been used successfully for more than 40 years, many churches, hospitals and government agencies when purchasing cables will be the new cable as the perfect replacement for copper.
Compared to the lack of copper, our country is one of the world's ten bauxite resources and reserves of 2.503 billion tons. The developed countries in Europe and the insulated wire and cable with aluminium conductor proportion is much higher than Asian and African countries, some countries of medium voltage cable are all made of aluminium conductor. As a kind of trend, worldwide, the insulated cable with the growing proportion of aluminum conductor, nature also spread among the Chinese. Domestic wire and cable industry with aluminum amount from about 600000 tons in 2000 to about 2.3 million tons in 2012, a year on average about 23.6% growth, far more than GDP growth. 2012 overhead lines with aluminum amount is about 1.8 million tons, domestic cable industry in proportion to the total amount of aluminum is 78.2%.
Taken together, the current aluminum conductor cable promotion has obvious advantages. Such as the limited reserves of copper resources in our country. When prices are high and copper price difference is large, aluminum conductor cable has obvious price advantage; Use cable compression investment; Especially the aluminum conductor cable in the system using life cycle assessment has obvious advantages. All these aspects of aluminium conductor.
In fact, to break the restriction of copper causing bottlenecks, in recent years, in aluminum instead of copper wire and cable enterprises in our country has carried on the unremitting exploration. Success after years of scientific research enterprise developed aluminum alloy cable, both in electrical or mechanical properties are completely realized with aluminum instead of copper major technological breakthroughs.
Production technology of aluminum alloy cable used is different from the traditional cable and technology while the development of high-tech new aluminium alloy conductor power cable, compared with copper cable, its safe carrying capacity, conductivity and security, conductor resistance rate, especially the amount of intercepting completely equal or even better than the traditional copper cables, made up for hard as pure aluminum cable conductor of many shortcomings, to solve the aluminum alloy cable in security properties, electrical properties, mechanical properties of many failed to solve the major technical problems.
And aluminum alloy cable in service life, conductive performance, creep resistance, tensile strength and less weight than the traditional copper cable performance is better. Under the condition of equal load flow, the weight of the aluminum alloy cable only half of the ordinary copper. Compared with the traditional copper cable, metal cable on the premise of copper conductive performance and fairly, lighter, more flexible, completely changed the past pure aluminium cable poor mechanical strength, low ability to resist fatigue and tapping are prone to accidents, ensure the cable in the case of long time overload and overheating continued stability of the cable connection. In addition, it makes up for the traditional copper cable has memory effect and high rebound performance, reduce the line loss. Aluminum alloy material price advantage is clear, in under the premise of meet the same electrical properties, aluminum alloy cable of the project cost is lower than the cost of copper core cable more than 50%.
Industry experts pointed out: in the United States, France, Canada, Europe and the United States developed countries, such as aluminum alloy wire using proportion is as high as 90% of all cable. In China, the aluminum alloy cable is just beginning, but development is rapid, in recent years are kept for 3 to 5 times the annual growth rate. Over the next five years China's aluminum alloy cable market will be rapid development, form the market size of 200 billion yuan of above, the market demand prospect is very considerable.
Aluminium alloy conductor low voltage cable, perhaps will be the next investment boom. According to rough statistics, more than 100 domestic enterprises invest in the project, once the market is opened, the related industry will face a new round of shock, and cable industry will further expand into a passive. But the need for vigilance is that aluminum alloy cable must not be blind expansion, cable industry has seen such a cable, fiber optic cable, medium voltage crosslinked cable CCV line, VCV high-pressure extra-high voltage cable line, multiple investment boom, make originally in the abyss of more serious excess surplus of industry. Irrational competition the damage is not only the interests of users, more make industry development, on the back foot. Have experience lesson, aluminum conductor cable can't be the next industries with excess capacity.
Related posts