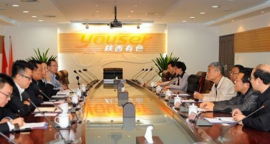 On November 21, Rio chairman jan du plessis with chinalco chairman GeGongLin establishment ceremony held in Beijing jointly announced a joint venture established a innovation, chinalco, Rio tinto technology cooperation center (RTCI). The joint venture will be located in Hong Kong, Rio tinto and chinalco has 50% of the rights and interests.
Chinalco's Rio tinto technology cooperation center and new progress of Rio and chinalco existing cooperation. Exploration has been established in China in 2011, the two sides of the joint venture company, chinalco, Rio tinto exploration co., LTD. In November 2013, Rio tinto and chinalco signed a memorandum of cooperation on deepening technology. After 12 months, the two sides conducted a comprehensive advance work, and further determine the technology innovation cooperation will bring great mutual benefit for both sides.
Rio chairman jan du plessis said: "for Rio tinto and chinalco, this is an important moment, Rio and chinalco closely injected new impetus and mutually beneficial relations of cooperation. Through joint ventures, will make both parties more formal cooperation in terms of innovation."
, "said chinalco chairman GeGongLin chinalco has perfect technological innovation system in various areas of business and strong ability of independent research and development, and attaches great importance to the engineering technology development and application of technology transformation, Rio tinto in global established a powerful and efficient research and development system, has rich experience in research and development organization and implementation, industrialization transformation ability, bilateral cooperation in technology innovation can realize the complementary advantages, combination.
Summit meeting in chinalco's Rio tinto, chinalco's Rio tinto technology cooperation center opening, marks a major step forward in technology innovation cooperation on both sides. GeGongLin hope in chinalco's Rio tinto technology cooperation center platform, speed up the implementation of technical cooperation substantive progress, create new economic value and social benefits for both sides. "
Rio tinto chief executive Sam wales said: "in an increasingly challenging global business environment, seek to promote productivity and create value investment is more important, the road of innovation will be a strong breakthrough. China's ongoing economic transformation, the future will pay more attention to innovation, efficiency, and sustainable development. The establishment of the joint venture has a groundbreaking innovation, innovation will be one of Rio's response urgency and further development of cooperative relations with China is an important milestone. Via cooperation with chinalco, we can achieve greater shareholder value."
Rio and chinalco agree that technical cooperation will bring long-term value for both sides. Rio tinto has recognized global leader in mining industry innovation, chinalco has world-class r&d resources and technical strength, the combination of the both sides advantages will become the solid foundation on which chinalco's Rio tinto technology cooperation center. Model of a joint venture, make both parties may, by way of periodic opportunities to the development of specific safety and effective evaluation.
Related posts