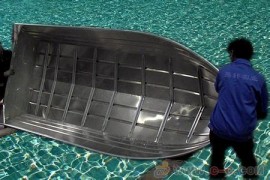 Ship is the main water transportation, and trade would be that of a giant sailing ship. Due to the low density of aluminium and aluminium alloy, which is about 1/3 of the steel, the strong resistance to corrosion of sea water and has a good processing formability and weldability, etc., so since 1888 in the United States and Switzerland four years after the industrial production is used in the manufacture of steamboat, two years before the plane for the first time to use aluminum.
Swiss building aluminum boat for the first time in 1891 other countries have made boat aluminum body, but as a result of aluminum was born soon after, the variety of aluminum alloy is not much, only a few kinds of aluminum alloy with low strength, corrosion resistance is not very desirable, thereby limiting their application in shipbuilding. Metallurgical industry is the forerunner and foundation of shipbuilding industry, with the development of metallurgical industry, aluminum industry in the late 1920 s for shipbuilding industry provides a high resistance to corrosion of Al – Mg alloy, so the application of aluminum alloy in shipbuilding is back.
Marine materials (9) : aluminum alloy application in Europe and the United States civil ship in August 1931, the British made "Diana Ⅱ" (Diana Ⅱ) all aluminum yacht, is the world's first aircraft, gleaming silver, materials for aluminum and magnesium alloy, 16.75 m long, 3.65 m wide, 1.74 m draft, use after more than 20 years, is still intact, hull no corrosion. 1955 aluminum alloy exhibition in London for a yacht. After the "Diana Ⅱ" in succession, such as Canada, Sweden and Britain, built some aluminum boat. Due to the aluminum alloy used in shipbuilding, promote the development of the hydrofoil. The Soviet union in 1958 built the "pull," hydrofoil passenger boat (Paketa), carry up to 66 passengers, hull material for dural; Built in 1959 and 130 to 150 passengers in the "mei bajaur" hydrofoil passenger boat (Meteor), 34.4 m long, maximum speed 80 km/h, hull material for dural, riveting, they then built hydrofoil adopt aluminum and magnesium alloy, the welding. 1962 "cyclone" coastal hydrofoil USES the stiffener and plate rolling into a whole new type of plate, thus the quality of the hull to reduce by 10% ~ 15%, and the captain of 46.5 m, width 9.0 m, 3.0 m draft, displacement of 108 t, 3181 kw power, speed of 92.5 km/h.
Since 1928, the aluminum alloy has been gradually used in the manufacture of large ship superstructure, this year, built the house with aluminum alloy material. In 1939, cargo capacity of 8800 t Norwegian carrier "fern plante (Fernplant)", the upper deck, port and rail are aluminum alloy, with 14 t, 40 t steel saves. After the second world war, the metallurgical industry achieved rapid progress, widely used in aluminum alloy manufacture ship superstructure, and the dosage of Japan for increased, especially some luxury cruise: in 1952 the United States "the UN (United States), cruise Shared the 2000 t aluminum, the captain of 305 m, 37 m wide, displacement of 5914 t, 2000 passengers, built in 1960 Britain Australia Lena (Oriana)" and "Canberra (Canbeera)" giant packet respectively using more than 1000 tons of aluminum, 40 kt displacement quantity of the former, the latter of 48 kt.
Aluminum alloy material is used in the manufacture of other civilian ships: built in the early 1950 s Britain some tanker of 5054 alloy lining plate is 5 XXX series, each level 30 kt ship with more than 1000 t aluminum; Made in Britain in 1951 "Red Rose" (Red Rose), fishing boats with aluminum 27 t; 1964 Hungarian designed a 100 t gold aluminum fishing boat, with aluminum mainly containing 2.5% ~ 2.5% of Mg alloy; Aluminum alloy also has been applied on a barge, which the United States in 1964 to build a barge all aluminum, more than 180 t, application of aluminum sheet whether or extrusion materials, using all of these 5083 alloy, cargo capacity is 14% higher than steel barges; Can also be made of aluminum alloy, tugboat "SMD (Sauter)" in the United States drag hull is made of 5083 and 5086 alloy welding, manufacturing time shortened about 30% lighter than steel; The Soviet union built the train ferry with 5056 and 5466 alloy welding; In 196 Britain made two biogas carrier, the ship's nine biogas warehouse is made of aluminum alloy welded.
Related posts