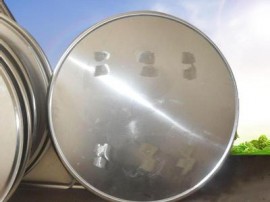 Zhong wang zhongwang aluminum projects has been a street road construction site, earthwork accumulation is consistent hallmarks hill, excavators, loading and unloading car are nervously desilting and soil.
"This is a special section of the street zhongwang, it is a waste dam, truncation, has managed to dam is gradually desilting, rain drainage, road structure construction." Said, head of civil job, daqing zhongwang yearly produces 1.2 million tons of aluminum and aluminum alloy plate with foil municipal road engineering project a total of 5.2 kilometers, 10 square meters, is currently building zhongwang, two all the way, a street, the four main street.
Drive travel in potholes rugged construction site, a concrete road covered with plastic film is very conspicuous. "This article is zhong wang 2, its concrete road structure layer second from bottom line meter has finished construction 300, now has entered a phase structure layer form." Job, told reporters that since mid-march road construction engineering construction, the scene more than 200 workers, more than 30 digger, more than 20 bulldozer, loading and unloading car deployment of construction, in particular the 40-odd, engineering material in and out of the transport vehicles more than 100 were every day, material conveying nearly 2000 cubic meters.
The reporter understands, so far, the project of road construction has completed nearly half of quantities, zhongwang three-way, four-way and extension of the street, two street project will continue to in the near future. Is expected to complete the end of June engineering construction, water stability, the structure of the two dust in mid-october to achieve the overall project completion.
With road construction at the same time and affiliated facilities improve pump room construction of rain. At present, no. 1 and no. 2 two stagnant pool has been capped structure, substations are tied reinforcement construction, is expected to the pump room project can be completed after a month. 16 sets of pump room is completed, will install the water pump, a pump drainage can be 3600 cubic meters per hour, it will provide powerful guarantee for the whole factory drainage.
Related posts