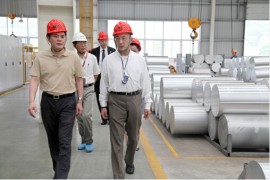 On the basic situation and characteristics of the aluminum industry, which restricts the healthy development of industry still has the following three aspects, specific as follows:
(a) dissolve the electrolytic aluminium production capacity surplus contradiction faces many obstacles
Dissolve the electrolytic aluminium excess capacity contradictions are still aluminum industry one of the key work. There has been a control at present, the new capacity, backward production capacity basic elimination is completed before the end of the year, but the high cost of capacity exit problems remain. The high cost of production of Middle East exit face many obstacles, mainly involved in corporate debt, bank loan, personnel placement, local finance, to the effect of upstream and downstream industry chain and problems left over by history.
Therefore, we suggest that countries in tax breaks, debt relief, worker resettlement compensation, etc, to establish operable supporting policies.
(2) application expansion policy guidance and support
Expanded aluminum used effective measures is the most fundamental resolve aluminium excess capacity. In recent years, we carried out a large number of research aimed at boosting aluminum applications. By the calculation, such as full aluminium in the field of transport trailer and the application of aluminum alloy in the field of building templates, retaining plate if it can be implemented, is an increase of 20 million tons of aluminum consumption. But more than consumption of still need to get the policy guidance and support. All aluminum trailer, for example, your selling price due to the large production input, vehicles, traffic transportation industry management to strengthen the objective existence of the problems such as, killing all aluminum trailer had some difficulties in expanding market application.
Therefore, the proposed "to promote aluminum application major projects", from the perspectives of financial, market, standard, to support and promote, expand the application of aluminum.
(3) aluminum resources to security will have an impact on aluminium industry
World bauxite resources are very abundant. But in recent years, China's external dependency a aluminum resources remain at around 50%. Given Indonesia banned the implementation of the bauxite export policy, in this part of the demand of bauxite resources by looking for other countries to safeguard. Yet most rich bauxite resources, high grade areas exist distance, poor infrastructure, problems such as unstable political environment.
Therefore, suggest to go out and make overseas resources development, or to the conditional countries and the area of alumina plant is built enterprise overseas investment policy support, including financial, credit, foreign trade, etc., to increase the rights and interests of overseas resources and resource supply, alleviate the pressure of the domestic bauxite supply, ensure the sustainable development of aluminum industry in China.
Related posts