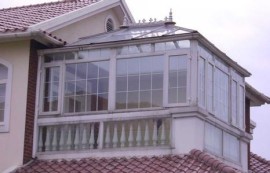 The doors and Windows of the building is part of the building periphery structure, is the most sensitive parts of the building heat exchange, its energy consumption per unit area of 5 ~ 6 times that of the wall, door and window heat loss accounts for more than 40% of the whole building. Buildings outside the door and window heat loss has three ways: first, through the aluminum heat conduction loss; Second, through the glass of the radiation heat loss; Third, the gap of air convection heat loss through doors and Windows. Also produce heat preservation and heat insulation, therefore, lu: su doors and Windows to consider from the three aspects.
1 aluminum profile, aluminum alloy material is a good conductor of heat, thermal conductivity, most is quite high. To make heat preservation and heat insulation glass, should choose to have insulation broken bridge processing profiles, namely partition profile heat conduction pathway, in order to achieve the purpose of heat preservation and heat insulation.
2, heat preservation and heat insulation glass doors and Windows need to adopt hollow glass, because the empty cavity between the hollow glass filled with dry, the stillness of the air, the thermal conductivity greatly reduced, thus insulating glass has excellent thermal insulation, sound insulation and resistance to frost, coagulation, condensation properties, commonly used the glass thickness of the hollow glass 5 ~ 6 mm, common cavity thickness is 9 mm, 12 mm.
3, heat preservation and heat insulation sealing materials doors and Windows with sealant should choose weather resistance rubber, sealing strip should choose good ozone corrosion resistance and anti ultraviolet ageing performance of neoprene products, door and window opens overlap part to set up more than three sealing strip.
Related posts